Best Web Design and Development

company in Delhi
Double Klick Designs has established itself as the best web development company in Delhi. It has gained a few renowned acknowledgments for its quality web design work via super happy customers. Double Klick Designs has established itself as the best web development company in Delhi.
We are a leading web design agency that accurately captures a brand's voice and strives to fully understand the client's industry to deliver outstanding web design results.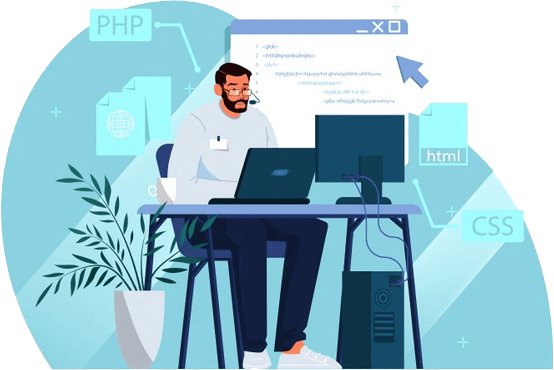 Web Development Company In Delhi
Our knowledgeable group of best website designers and website engineers in India has been developing innovative website answers for clients over the last decade. Being a leading web development company, we guarantee that each undertaking has the least completion time, which guarantees that our clients can meet their timelines while maintaining quality. Our dynamic web design team excels at various platforms like Drupal, PHP, Ionic, Cake PHP, Magento, CodeIgniter, Laravel, AngularJS, Joomla, Java, YII, and so on. Our experts have many years of experience in developing top-notch websites and can guarantee that your brand or business gets a website that is truly world-class.
With our years of experience, we use only the latest web design strategies and tactics to promote your business without which we believe you could become obsolete in the current competitive world. Right from tech giants to Hoteliers and from travel and tour companies to food and beverage brands to all various others, we have worked with a wide variety of clients to deliver result-oriented website design services. With best-in-class website design, web development, and mobile application services, we help clients effectively capture the digital marketing space and win more clients. We are a full-service best web development company in Delhi NCR handling the web designing and graphic designing needs of both startups and brands helping them reach out to consumers consistently.

Our Mission
Our mission is to help businesses build a strong identity and connect to their potential customers. We use the best website designing technologies and techniques to help improve the visibility of your business and perfectly serve your purpose and dream.

Our Approach
We strive to bridge the gap between the ordinary man and the emerging digital world. We make use of digital marketing techniques in order to support this new and emerging era of digitization.
Get a free customized quote
Since having our new website built by Double klick design , we have seen a 200% increase in the number of online contact forms being filled out and returned to us. Tejbir and his team worked closely with us to provide a site that met all of the criteria that we were looking for. The end result was a website that is attractive, organized and effective. Thanks to Doubleklick Designs for all of your hard work and support!
My experience with this company has been good. They very supportive and responsive. 100% Recommended.
We had a great Experience with DoubleKlick Designs .They were our technology partner at the founding stage .
In the words of our clients
Address: C-159, Okhla Phase 1, Second Floor Above Karur Vsya Bank, New Delhi - 110020
Copyright © 2022 DoubleKlick Designs | Powered by DoubleKlick Designs